AN EVENT LIKE THIS DOESN'T HAPPEN WITHOUT QUESTIONS
What does my registration money get me?
A great start and finish party with beverages, swag and race gifts.

All riders receive the 2019 riders patch, a

thingsuncommon

gift, and

manduro

takeaways. Plus drinks, a medal, and other goodies.

An adventure so unique people will invite you over for years to come just to hear the stories | a hero's welcome at the finish party regardless of how far you got on the course | surprises

are you cheap? you can always stay home on the couch with a $6 pack of PBR ~ we don't care ~ it's safer that way
Will there be support on the route?
Support from the event staff? NO! You may get a pat on the back and weather report texts

Support yourself, flag down someone, knock on a door, scream out and hope someone hears you | Pity will be showered on you at the finish by everyone | You wont be alone in your suffering other than, you might just be alone

This is an individual race, you can form teams as you race for support however, there can be only one winner
Can I have my own support team?
If you think that will help, go for it | we looked into our crystal ball only to foresee this being more trouble than what you might think is "support"

Maybe phone-a-friend or a roving bunch of mates trying to keep up with where you are in the race or a chance they can meet you at the next brewery | From past experience, this might be a waste of time, and time is so precious on manduro

You'll want someone to come get you when you tap-out so you don't have to make the long journey riding more from wherever you are
How many riders will there be?
A maximum of 50 riders. All must be 21 or older.
Do I have to qualify?
You don't have to qualify. You can be denied | if denied, we'll return your money plus maybe $5 so that you can buy yourself a beer to go cry in | If you have the guts to enter, you'll likely make it into the event | we'll look into who you are and gauge your ability | we certainly do not want to put anyone out on the route that has no business there, for your safety and ours
What can you tell us about the ride?
What should I expect on the route?
Thick stuff. Single track. Sugar-sand. Mud. Thorns. Good roads. Bad roads. Worse roads. Gravel. Ups. Downs. Water crossings. Mental fatigue. Physical punishment. Debris. Poison Ivy. Spiders. Snakes. Disgruntled people. Relying on technology. Technology failure. Needing other technology. Making crucial choices under heavy duress. Skills beyond riding fast. Feeling alone. Heat. Wishing you were on a different bike. Deciding to stay with a group or break off alone. New places. New experiences. New routes. Great views. Brews. Cool, adventurous people. And sealed boxes to bag the contents of while making your way.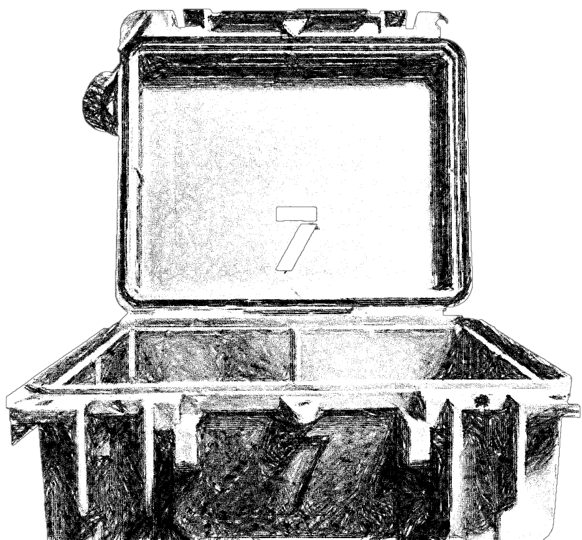 What type of bike?
You can use just about any bike that is not electric/power assisted, depends how crazy and skilled of a bicyclist you claim to be under any condition.

At some point every rider will wish they had some other type of bike than the one they are on | See above, plan accordingly
Technology, what about that?
Having your phone (and a back-up) ready at all times with a QR reader is an absolute must to be able to do manduro. Having multiple ways to keep it charged, dry and working are a paramount part of the race. A smart rider would carry a GPS as well

Having a compass and physical/paper maps could help
What about inclement weather?
Rain or Shine or Both. Hot. Humid. Wind. Wet. The race goes unless there is hurricane, and maybe even then.

2018 saw the race starting in a downpour with rain 8 out of the first 12 hours.
Where do I stay before and after the event?
Riders coming from afar will be connected with our friendly and vast network of bicycle hosts here in the Raleigh/Triangle area if you ask.

You can always book a hotel room downtown Raleigh for Thursday and Saturday nights. Longer if you like.

After registering, let us know if you need a hook-up with a local and we'll find someone.
What about the Start and Finish?
The racing adventure starts Friday promptly at Noon at the sound of the train whistles.

Rider registration check-in begins at 10:00 am.

The finish will be at a brewery TBA starting at 4 pm on Saturday and the party will end at Midnight

More information, but not much more, is given out to registered riders and to the public/fans via the event pages

All riders, regardless of success on the course, will be treated with great fanfare and respect.

You can party as long as you'd like. Who know's, your partying longevity may last longer than your biking time, it did for many of the Pioneer manduro riders.

Stay tuned for a Thursday evening manduro rider and staff preview drink social, TBA
Can I have friends and family at the start and finish?
Absolutely! In fact, we'll give out a special prize for whomever has the largest fan turnout

If you want to try to predict brewery locations and times to invite friends to be at those locations, well that's great too. Great for the brewery, futile for you
What's this about adventure filming?
If you're a filmmaker in search of someone to capture moments of adventure, let us know

Or, riders, are you looking for footage? We can help connect riders to persons behind a camera

If you are a major brand using manduro for a corporate sizzle reel, we ask you let us know well in advance to make the proper arrangements
What about insurance?
We'll have some, maybe you should too | Most travel adventure insurance plans are relatively inexpensive and might be a literal life-saver | if you are a member of a bike club or association, check there | or, risk it

You'll sign a waiver or two
How is anyone going to finish this thing?
2018 ~ 13 Boxes to find/grab recipe pages from cookbooks with two riders bagging 8 (and getting to Box 9) and two riders bagging 7 (and getting to Box 8) over the 36 hours.

Most 2018 riders only bagged 3 boxes before tapping out within the first 12 hours

It will involve pedaling, navigating wisely, exploring, sore butts, and, most important, time management

Sign up, how do you know you can't finish 'til you try?

Obviously, the manduro experience of past riders is an advantage but hey, they paid their dues

Finishing is relative | we will celebrate you having the courage to start | Each rider gets a finisher patch that reflects how far the rider made it with their last bagged box number stamped on it at the Finish Line Party

so far the WINNER stamp has stayed dry
Which is it ~ 200, 250 or even more miles?
Below is what the final letter to the 2018 riders looked like.
You may be able to glean some information on what to expect from this letter.
Then again, the 2019 course will be different and so will the info we push out.

an originovel llc production
© Copyright 2019 ~|~ All Rights Reserved